Sanskaras Cause New Body-taking
(Infinite Intelligence, pp. 232-33)
Sanskaras responsible for the succession of forms
Then once again the infinite mind (of the human) goes on to experience the subtle and gross universe in accordance with these sanskaras collected through the first gross body: for these sanskaras cause the mind to remain conscious of the subtle and gross bodies and, through these bodies, the subtle and gross universe. In turn, these new experiences (of the second human gross body) create new fine sanskaras, which get impressed on the infinite mind. And when at length this second gross body suits and matches the sum total of impressions which were received in the last form and which make up the current mold of the subtle body. The suitability of this new gross body lies in the fact that it is a fit medium for the receiving of new experiences that arise in accordance with the mind's sanskaras gathered in the past during the last form. In this way the infinite mind goes on experiencing the subtle and gross universe through a progression of new and newer forms. These forms, again, correspond to the impressions of the infinite mind's earlier experiences.
Sanskaras: from Latency to Action
(as Described in Infinite Intelligence)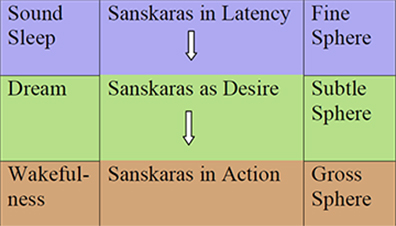 Wakeful States, Spheres, Divine Natures, and Sanskaras in Infinite Intelligence and God Speaks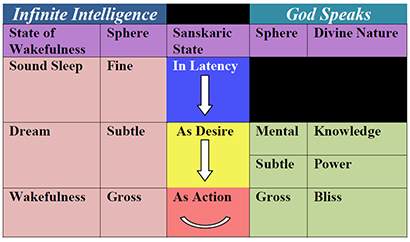 Reading the Book of Nature
(Infinite Intelligence, p. 253)
Reading the book of nature
Through all this processes of reincarnation and universe experience, the Soul through consciousness is (as it were) reading the book of nature, that is, perusing nature's manifestation in the form of subtle and gross bodies and subtle and gross universes. In other words, Infinite Intelligence through Its subtle and gross thinking is read or thinking or realizing the book of Its imagination. Completing the reading of one page, It turns the leaf over, reads through another page, and turns that over. In this way one page after another is finished and turned over - that is to say, one imaginary life after another passes away - until the book is completed. Having thus finished reading this book, Infinite Intelligence now sets it aside and stands aloof. There ends the matter.
Categories of Sanskaras
In terms of origination: natural and unnatural
Early vs. late in evolution: coiled vs. sine waves
Correlated with mental, subtle and gross (that is, with respect to latency, desire, and action)
Relations with past and futurity: sanchita, prarabhdha, and kriyamana
The Shapes of Sanskaras
From Lonavala Tiffin Lecture, late Nov. 1926

Francis Brabazon's Notes on the Progression from Gross to Subtle and Mental Sanskaras
In several scattered jottings Francis appears to be musing on sanskaras and their major types. Are what we call subtle sanskaras merely gross sanskaras thinned out sufficiently, or are gross and subtle sanskaras qualitatively different from each other? The same question arises, of course, regarding subtle and mental sanskaras. A note dated July 24 seems to give an answer. Throughout the course of evolution, we learn, sanskaras get thicker and thicker, and in the human form, they reach their thickest. When at last (through the long cycle of reincarnation) gross sanskaras have thinned out and vanished, all at once subtle sanskaras appear. At first these subtle sanskaras teem thickly like the gross sanskaras previously did, but gradually, they too get weeded out. When finally they have been killed off and disappear, then mental sanskaras emerge into view. All of this, evidently, was explained by Baba. One infers from it that gross, subtle, and mental sanskaras differ from each other not only quantitatively but in kind.
Three Types of Karmas
1. Sanchita: dormant karmas. Like arrows in the quiver.
2. Prarabdha: active karma. Analogy: Like arrows in flight.
3. Kriyamana—potential karma. Analogy: like arrows that have not yet been made.
Five Methods of Eliminating Sanskaras
1. Cessation of new sanskaras (comparable to stopping winding the ball of string)
2. The wearing out of old sanskaras (comparable to wearing out the string at the place where it is)
3. The unwinding of past sanskaras (comparable to unwinding the string)
4. The dispersion and exhaustion of some sanskaras
5. The wiping out of sanskaras (comparable to cutting the string with scissors)
Eliminating Sanskaras in Karma, Jnan, and Bhakti Yoga
Karma yoga: the theatrical company
Jnan yoga: poisoning the baby
Bhakti yoga
Some Major Buddhist Concepts
Pratītyasamutpāda or "Dependent Arising"
"This is, because that is. This is not, because that is not.
This ceases to be, because that ceases to be."
Trilaksana, or the three marks of existence
  (i) impermanence (anicca)
  (ii) suffering  or unsatisfactoriness (dukkha)
  (iii) no-self (anattā)
The Five Skandas (or Constituents of the False Self)
(i) rūpa (form or matter);
(ii) vedanā (sensation or feeling);
(iii) samjnā (perception, conception, apperception, cognition, discrimination);
(iv) samskāra (mental formations, impulses, volition, compositional factors);
(v) vijñāna (consciousness, discernment)
Buddha's Chain of Causation*
(the twelve nidanas)
1. ignorance (avidyā)
2. samskāra or impulse accumulations
3. consciousness (vijñāna)        
4. name and form (nāma-rūpa)
5. the six "gates" or organs of discernment (Sadāyatana)
6. contact (sparśa)
7. sensation (vedanā)
8. desire (trsnā)
9. attachment (apādāna)
10. becoming (bhava)
11. birth (jāti)
12. aging and death (jarā-marana)
*The chain of causation is a manifestation of what Buddha called pratītyasamutpāda, "dependent arising."
The Twelve Nidānas
(or links in the chain of causation)