This ticket will give our visitor access to our Maud Kennedy Archive Exhibit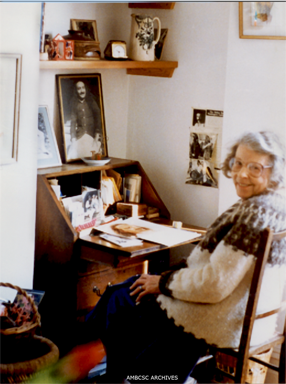 From a Maud Kennedy letter Baba says, "Every heart that loves me becomes an ashram for my work."
Special thanks to the Tanya Moller Archives for surrendering to the Manifestation's New Humanity this article on Meher Baba's Maud Kennedy.

Every one of us has our own experience of Maud. She gave each individual something special which we carry within us. Maud was miraculous, with rare gifts for those who crossed her path.
Maud Cooke was born in 1905 in the Indian city of Jaiphur, whose beauty Maud's mother captured in a watercolor. (She was proud of her artist ancestor, E.W. Cooke R.A., who was honored in both
scientific and artistic circles). Tragically Maud's mother died when Maud was only six. She and her brother Reggie were sent back to guardians and schools in England. (Maud went to school in
Hertfordshire and then to Headthgton High School, Oxford.) Memories of India left her open to Eastern religions and other cultures. In 1960, Maud was to turn to Meher Baba whom she was to recognize as the Avatar of the age. At 19, Maud returned to India as an eligible young woman and experienced something of the British Raj. But it seems she was uninterested in marrying any stiff upper lipped Englishman. Back in Europe, she was to teach at a finishing school in Brussels. Her descriptions sounded like something out of a Charlotte Bronte novel. She moved to a more adventurous life as governess to the children of a Belgian baron in his chateau.
Maud's artistic talents took her to the Slade School of Art but, due to her father's financial problems, she had to leave a term before the qualifying exam. So she was not acceptable to the educational bureaucracy as an art teacher. This was a blessing in disguise; she could do her own paintings and instead, she became a teacher to us all, free of any rigid syllabus. She has passed on her creativity to her children Tyl, Finn and Tanya, and doubtless her grandchildren. In fact, Maud learned her art
of water color painting in just a few private lessons. An artist friend of mine remarked how Maud had carried on a Victorian style whose secrets were lost to a younger generation. Unable to be employed as an art teacher, Maud briefly worked as a milliner and seamstress. These seemingly humble skills were to be developed later in her stunning handiwork — crocheted jackets, knitted gloves and bags, woven belts made from subtly shaded rainbow hues, often with naturally dyed wools ordered from Shetland.
At Hamble in the 1930s, now living near her father and stepmother, Maud met and married Brien Kennedy, a young apprentice boat designer from Ireland. With the outbreak of war, Maud moved to a
cottage in Connemara, Ireland with her son Tyl. There Finn was born. Maud's stories and subsequent paintings capture a unique rural life without luxuries, but with tranquility in the shadow of the mountains. Thanks to Maud's introductions, her neighbor Kate Nee has featured in a book and film on the West of Ireland. Maud returned to England where Tanya was born. About that time,
Maud became more conscious of natural foods and, with war rationing, turned to vegetarianism. Her marriage ended, Maud moved to yet another existence in Hampstead, mixing with writers and artists in the heyday of bohemianism in the late 1940s. But she yearned to bring up her children in the country and in 1950, moved to Lower Heyford by the river and the Oxford canal. She was to develop to the full a sense of harmony with nature. She wrote poetry. Her oil and water colour paintings blossomed. She was to be seen around with her canvas stool, sketchpad, paints and straw hat. In the garden she grew organic vegetables, old fashioned roses and wilder flowers, rather than horticultural hybrids.
Maud welcomed many visitors to her simple Cotswold cottage. Her kitchen table was the centre of hospitality. People could just turn up and were served with China tea, soda bread and blackberry jam, or a delicious vegetarian dinner. Long before it was properly recognized, Maud warned about factory farming and chemical additives. She used alternative medicines, products not tested on animals and spiritual healing. She made the Ocean room a shrine and place for meditation and prayer.
While she herself had been deprived of a mother at the age of six, Maud became a loving mother to many of us — a spiritual guide, a poetic inspiration, a consoler, a perpetual optimist and a mender of our broken wings. In the late 1960s, she had an almost open house to the so called flower children. Peter Townshend, the pop star of The Who, set her poems to music. She was an early visitor to Findhorn in Scotland.

She, in her late sixties, regularly visited 'Swinging London' and picked out the best of those days.
By the early I 980s, Maudhad left Purcell Cottage to be near her children in Lewes. True to form, she soon made new friends. Younger people were drawn to her. She did not become the stereotyped, isolated old lady. Maud always let things happen and they always did. Her mind arid heart were open to a way of being beyond an arrow and conventional Englishness. She rejected anything prim and straight laced. She made friends with people from all over the world and she inspired us. It was
such fun hearing her stories of how she met new people; in shops, on trains, at meetings or just out walking. She wrote and received letters worldwide. Maud trusted and believed in other people's goodness and found it. Maud could also spot the sham and bogus. I continued to marvel at how
she would recognize the inner being of people almost at first glance. She had an eye for special individuals. She would also draw to her those who were troubled who could be comforted by her wisdom and joy in living. All pettiness faded into the background after listening to her or
just soaking up the atmosphere in her home and garden. A visit to Maud would bring adventures. She could guide us through her books, maybe Irish poetry, her translation of Sufi mystics or the life of an
Indian Master. She responded with equal enthusiasm and perception to our own stories and adventures.
By selling her paintings, Maud could afford to travel to her beloved India and Meher Baba's ashram. She also travelled to Greece, Ireland, Italy and Spain. Always she returned with stories of adventure, chance meetings and fabulous water colors; showing her eye for architecture as well as nature. As she became frailer, she was less able to paint outside. She found new ways by painting the view from her bedroom window of the Sussex downs and changing skies. They became increasingly ethereal and mystical. She told me she didn't want to end up painting flowers — "that's what old ladies do". But one day she said she saw a sign from Meher Baba who, in a photo, was gesturing towards a flower. We now have a wonderful record of that inspiration. Again, there was an earthly feel — there are insects and odd grasses among the flowers.
In looking for the good and spiritual, Maud turned away from evil and the horror in the world. Her shining innocence sometimes left her vulnerable, but her sweetness and faith carried her along. She also showed us the potential for good and wisdom in the most mundane occurrences. Maud had a rare combination of the spiritual and the earthly. This of course was not a contradiction in her religious beliefs, but it was a miracle to experience. Maud could point to the eternal or spiritual in the tiniest detail of nature or daily routines.
After her stroke, Maud gradually weakened, but still clung to living. She continued painting, cooking and writing for as long as possible. Thanks to her ministering angels; Wendy, Nanette and especially
Tanya, we were able slowly to adjust to her departure... and she could die at home, surrounded by loved ones.
I shall end with a poem by Maud:

'Lines written on a large stone looking over frosty fields, dark lacy trees, a village in shadow and silvery hills.
December 10th 1976.'
Song of the Stone
I pray that I may leave behind
A little store of truth and beauty
Gathered by my eyes and mind.
For me this is a joyous duty.
Maud, we have loved you.
Thank you for illuminating our lives. 1
Thank you for showing what earthly existence could be.
Thanks be to your God.

Maud died on May 17th and was buried in the peaceful churchyard of
Fine village, East Sussex. A beautiful service was held in the church
attended by 50 relatives and friends. Birds could be heard singing, even
in the church and the sun shone warmly and unexpectedly
The visual library, the word made manifest, with a 182 days is presented below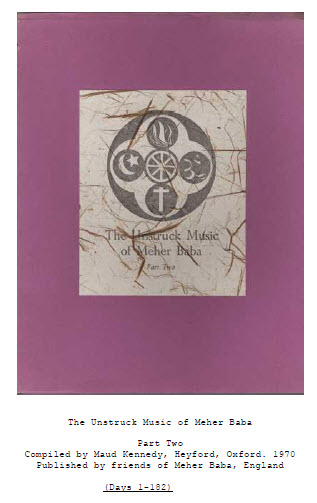 AMBCSC ARCHIVE PHOTO RESTORATION AND ORAL HISTORY ARCHIVE PROJECT